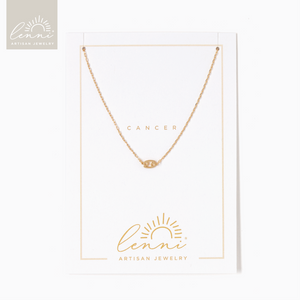 Material: 18k gold-plated over Sterling Silver.

Sizing: 16"-18" in length. Adjustable.
♡ Handcrafted in Turkey
Lenni and Co® is a NEW sister company of Tess+Tricia®, created by Tess+Tricia®.  
Lenni was created to decorate and celebrate our uniquely beautiful bodies; Every freckle, wrinkle, bump, and curve. Lenni and Co® features handcrafted, quality jewelry designed in the USA and made by skilled artisans around the world. Lenni pieces are delicate and simple; designed to keep you as the focal point. Let your body tell a story, and our jewelry adorn it.